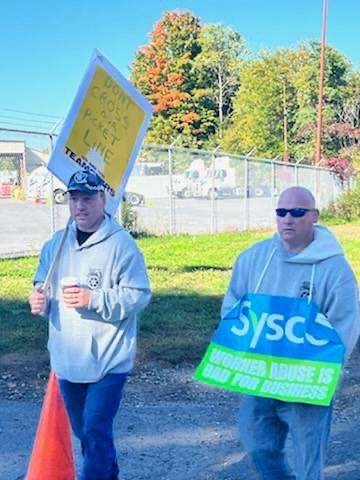 STRIKES AGAINST SYSCO CONTINUE AFTER TALKS BREAK DOWN
(WASHINGTON) – After more than six hours of talks, negotiations between the Teamsters and Sysco broke down Wednesday evening. As a result, more than 500 workers in Syracuse, N.Y., and Plympton, Mass., continue their strike against the company's unfair labor practices.
"Sysco pushes its workers to the physical brink as if they were disposable robots. Our members work hard, but they must be compensated with a secure and quality retirement and affordable health care. No longer will we allow this company to churn workers and then throw them away," said Sean M. O'Brien, Teamsters General President. "They are going to continue to stand up and fight for what they deserve. We have a saying on the strike line: one day longer, one day stronger."
More than 230 workers represented by Local 317 went on strike at Sysco Syracuse last Wednesday after weeks of contentious contract negotiations with the company. Less than three days later, more than 300 workers at Local 653 took to the picket line at Sysco Boston.